Last updated: 28 October, 2018
We will be holding a Bible Study Group through November and leading into Advent. We will meet at 6.30pm every Wednesday at St. Margaret's Church and at 11.00 am every Thursday morning at St. Catwg's Church, beginning on Wednesday 7th November and Thursday 8th November. All are welcome.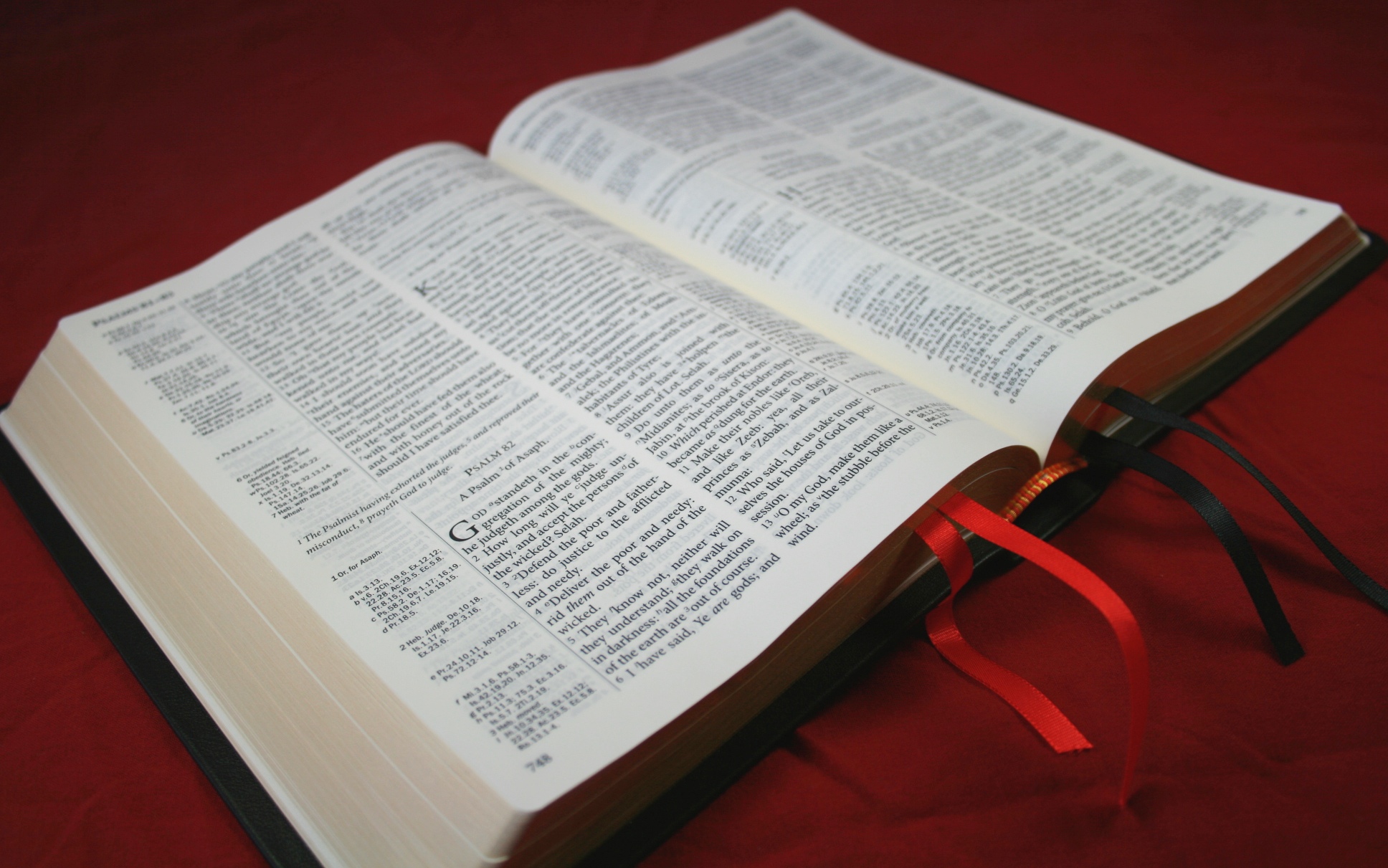 Parish Flower Arranging Group
There will be no class during November, however there will be a Christmas Workshop on Thursday 13th December starting at 10.00am, We will have a chance to make two Christmas arrangements, a Christmas Ring which can be hung up or placed on a table top and a candlestick arrangement. Please bring a small plate of goodies to share for lunch. Our Christmas lunch is at the Scholars Restaurant, Ystrad Mynach on Friday 30th November at 12pm. Any member wishing to join us please speak to Nesta or Hilda. Thank You.
Rhymney Valley Music Club Concert
The Rhymney Valley Music Club have a concert featuring the Gwent Chamber Orchestra on Saturday 20th October at 2.30pm in Lewis Girls School. Tickets £8 on the door.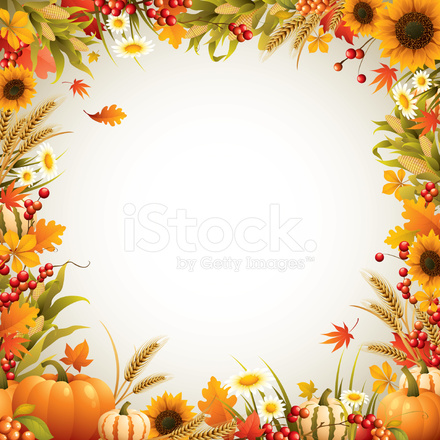 We celebrate our Harvest Festival on Sunday 7th October.
Gifts to decorate our Churches will be gratefully recieved and will be distributed to local care homes as useual.
o-o-o-o-o-o-o-o-o-o-o
We will celebrate our HARVEST SUPPER on WEDNESDAY 10th OCTBER.
If you have any used or unused postcards that you no longer need please bring them to Church. Audrey Phillips is collecting them to raise funds for MAF which is an international Christian aviation organisation which provides much needed food, water and medical supplies to isolated communities in remote areas of the world. Thank you for supporting this important work.
SOCIETY OF OUR LADY OF WALLSINGHAM
The local branch of the SOCIETY OF OUR LADY OF WALLSINGHAM will meet on Tuesday 7th August at 7.00pm in St. Catwg's Church to celebrate Holy Eucharist. All are welcome.
A day trip to Wells is being organised from Holy Trinity Church Ystard Mynach on Staurday 22nd September 2018. There is the opportunity to visit the town of Wells and, if you wish, to join the group for Evensong in Wells Cathedral.
The estimated cost is £15 per person. If you would like a day out to Wells please give your name to Carolyn by Sunday 5th August.
Macmillan Nurses Strawberry Tea
A Strawberry Tea is being held this week in support of MacMillan Nurses. It will be held in Holy Trinity Church Hall, Ystrad Mynach on Thursday 28th June 2018 at 2.30pm. Please come along and support this wounderful charity which does such important work within our community. All are welcome.
RAF CENTETARY CELEBRATION
The local branch of the RAF Association is holding a celebration of the centenary of the establishment of the Royal Air Force. This will be held on Thursday 21st June at Heolddu School. Doors will open at 6.30pm with the celebration commencing at 7.00pm. Programmes are available on the door. All are welcome.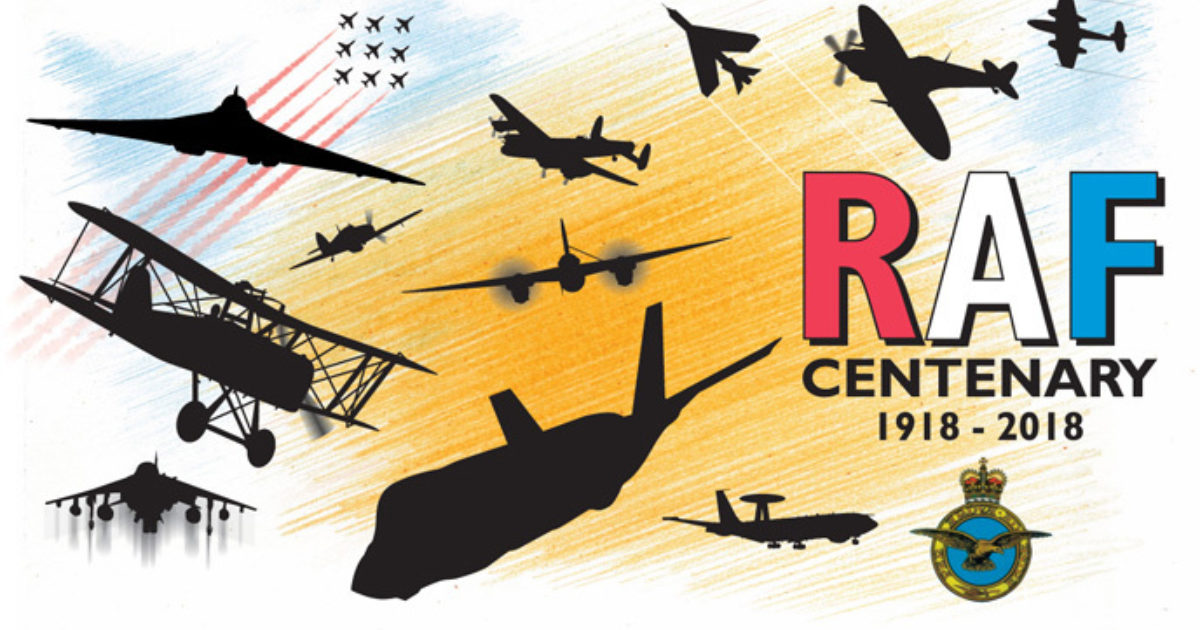 Sunday 29th April four of us travelled to Llandaff Cathedral to attend the normal Evensong service. However, this evening was very special indeed. We were privileged to have the combined choirs of Brecon, Llandaff and Newport Cathedrals - approximately 65 young choristers - girls and boys, and 30 or so men. We heard beautiful singingof well known hymns and anthems. The choir even sang the repeat chorus of Cwm Rhondda just as happens at rugby matches - very uplifting! This was actually the second service involving the three Cathedral choirs and the plan is to sing annually at different venues - next years event will be held on 19th May 2019 at Brecon Cathedral.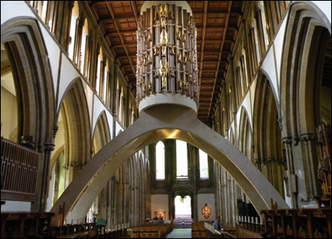 We all enjoyed the service, the singing and the superb music and plan to be at Brecon next May!
Audrey
On Thursday May 10th 2018 (Ascension Day) a united celebration of the Eucharist was held at St Catwg's Church. Congregants from the parishes of Gelligaer, Ystrad Mynach and Treharris, Trelewis, Bedlinog and Llanfabon attended the service.
The service was a sung Eucharist and servers from Holy Trinity assisted with the incense thurible. Father Gary's sermon took as its theme "Bidding farewell to a loved one". Father Gary compared how we may feel when we say goodbye to someone close to us when they move to another country or pass away, to the feelings of the disciples when the risen Christ left them for the last time as He ascended into heaven. He told his disciples that they must now carry his message out into a hostile world but not before the Holy Spirit had come to them.
At the conclusion of the service refreshments were served in the form of cheese and wine. All those present felt that this had been a truly uplifting experience.
Huw Thomas
This week is Christian Aid Week so please take an envelope from the back of the Church. There will be a retiring collection next Sunday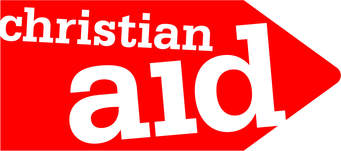 A big thank you to everyone who worked so hard this week to prepare for the Mothers,Union Deanery Festival and for Ascension Day which were a great success and enjoyed by all who attended.
Father Gary
Parish Annual General Meeting
The Parish Annual General Meeting will be held on Sunday 29th April 2018, following the Joint Parish Eucharist - St. Catwg's Church
(Nomination forms for the election to the positions of People's Warden and for the election to the Parochial Church Council will be available Sunday 8th April)
PARISH ANNUAL QUIZ NIGHT, 2018
Congratulations to the Bowls Club Team who are our Parish Quiz champions for the year. Thanks to everyone who came along, It was a good night enjoyed by all.
This year's quiz took place on the 21st. February, at the Gilfach Bowls Club and our Quizmaster for the evening was,once again, Father Gary. He informed us that the questions were to be divided into five categories, namely History, Words, Music, Sport and Leisure and lastly General Knowledge. There would also be, he told us, a separate picture quiz of distorted images of famous people.
To say the least, we thought this year's quiz was the most difficult yet, and I felt that all those general knowledge crosswords that I had completed had not made much difference to my IQ. The winning teams eventually were, in joint 3rd place the teams of Dumber and Dumber and David's Dollies, in 2nd place team Famous Five and 1st place went to team Gilfach Bowls Club, well done to you all.
This year Father Gary had provided a superb plaque with spaces for the name of each year's winner and also a small trophy to be given to the winning team.
Our thanks must go to everyone who provided an excellent buffet, to Father Gary for compiling the quiz, for being our Quizmaster and especially this year for giving us that lovely plaque, which was such a surprise as we had no idea until he arrived at the club. Lastly our thanks must go the committee of the Gilfach Bowls Club for once again allowing us to use their club for the evening, we were really grateful and hope that, maybe, we can return again next year.
The Flower Arranging Group continue to meet in St. Margaret's Church at 10.00am on the third Friday of each month. Everyone welcome. (no class in August)
The dance classes continue on Mondays in St. Margaret's. 11.15 - 12.15. Everyone welcome. ( no class during school summer holiday)
The first Tuesday of June we had our normal meeting where all the usual notices for the forthcoming weeks were given with prayers for our Indoor Members, Christine, Ruby, Bron and Remo. Our guest speaker for this month was Colin Capel, Gaynor's son-in-law. Colin worked for many years on mental health issues and he explained his role and asked our opinions on mental health. It was quite gratifying to know that so many of us understood that mental health issues could affect almost anyone. These issues come in many guises. Obviously we all recognise extreme cases such as psychosis or schizophrenia but we should all understand that grief causes many problems and also post-natal depression, although temporary, is another mental health issue. Colin was very informative and interesting to listen to and we all, I am sure, learned a great deal from him. He explained about handling people with issues and said that lots of problems are overcome by having someone to talk to, socialise with, and pray with. He thought that groups like our Mothers' Union were ideal for working through problems and on that idea we were all grateful for the positive outlook we can have by continuing with our weekly events throughout the month. Our coffee mornings continue to be a success with many people from the community joining in, as with the dance group and the flower arranging class. Our monthly dinner meeting are also well attended and enjoyed by everyone who goes. So thank you all for your continued support in our church and we pray that we can continue happily enjoying ourselves, and hopefully helping anyone who may need it.
Love and prayers
Kath
DEANERY SKITTLES TOURNAMENT
This skittles night has become an annual event in our deanery and it appears that we will be hosting it every year. We are very grateful to the Workies Club for letting us have the hall free of charge and for setting it all up for us every year. Once again it was a fun evening, though a very hot one (it's not very often we can say that). We had nine teams enter – two from Bargoed, two from Pontlottyn, two from Nelson and three from St. Margaret's. After a very varied score in the first round there was a tie, so we had a break for refreshments and the raffle, and then played a second round. At the end there was another tie with one team from St. Gwladys, Bargoed, and one time from St. Margaret's, both scoring 42 points. A play off between these two teams took place and lo and behold there was another tie, with both teams scoring 22. They were asked to choose one team member to roll and St. Gwladys chose Joan Carpenter and St. Margaret's chose Jeanette. Joan scored 5 and Jeanette scored 6, so St. Margaret's won. Jeanette, Myrtle, Linda and Norma were then presented with their prizes and had their photograph taken. Once again our teams have shone on the night.
It was a fun evening, enjoyed by everyone. There were about 50 people present and we raised £105 for the deanery. It again shows the fellowship and love for everyone who attended. It was lovely to see everyone cheering for anyone who bowled, not just for our own teams. It is good that everyone is prepared to have a go even if they fail. We all laugh when we don't knock any down but cheer very loudly when we do. Thanks to everyone who came with such good spirit and helped to make the evening a success.
God bless
Kath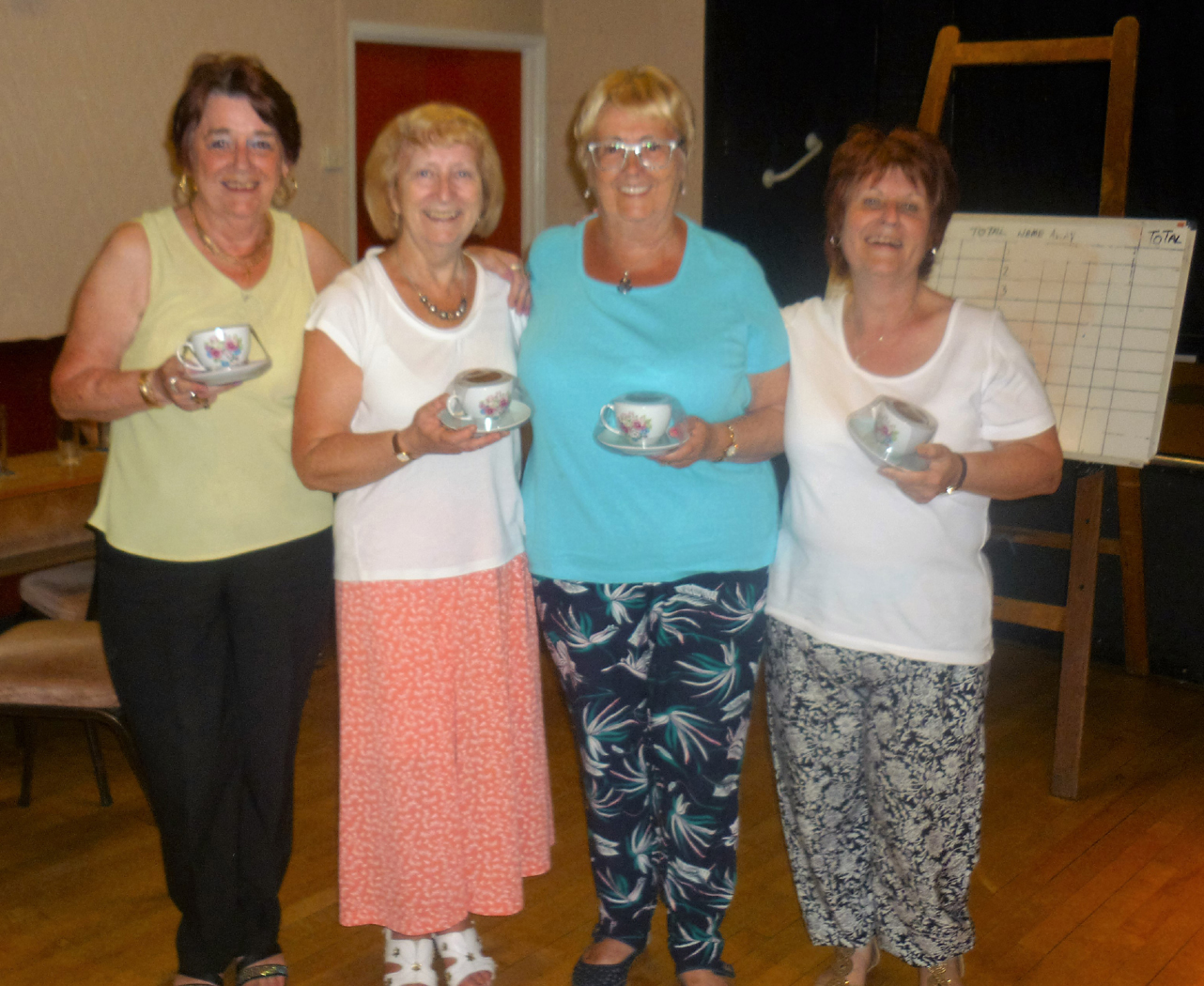 Quiz Night in R.A.F.A. Club
The Social Committee organised a Quiz night held in R.A.F.A. Club in Bargoed. It started at 7.30 p.m. with Fr Gary distributing a table "old fashioned" money quiz and a plain piece of paper to write the answers on. A microphone was needed to keep the unruly participants in order and the questions to be heard. The quiz was divided into several categories and the questions were very challenging.
The room at the club was full and the atmosphere very friendly and competitive. Everyone seemed to organise themselves into teams with no set number in each. There was a break in the middle when raffle tickets were sold. A sum of £98 was raised on the raffle and thanks must go to those who donated prizes.

Katey's team won the old fashioned money quiz while the main quiz had teams from Bargoed as the winners and also second and third places. We would like to thank them all for their support and hope that they enjoyed themselves as much as we did. Thanks to the R.A.F.A club for the use of their function room and to Fr Gary for compering the quiz and setting the questions (more current affairs next time please.)
It seems that a good time was had by everyone and we hope that another will be organised soon. A total of almost £250 was raised for parish funds, which was an easy and enjoyable way to raise much needed money.

-o-o-o-o-o-o-o-o-o-o-o-o-o-o-o-o-o-o-o-o-o-o-