Parish of Gelligaer Mothers Union
Branch Leader - Kath Llewellyn. Tel: 01443 829658
Branch Secretary – Myrtle Stephens Tel: 01443413297
Branch Treasurer - June Phillips. Tel: 01443 835977
*** Last updated on: 18 May, 2020 ***
| | | |
| --- | --- | --- |
| St. Catwg's MU | | St. Margaret's MU |
2020

The date, time and venue of an events may be subject to change!

Day/Date
Event
Location

January

Tuesday

7th

St. Margaret's Church at 7.00pm

Tuesday

14th

Mother's Union Coffee Morning

St. Margaret's Church

at 10.30am

Tuesday

21st

Mother's Union Skittles Evening.

Gilfach Bowls Club at 7.30pm

Tuesday

28th

Mother's Union Luncheon club

Parc Cwm Darren, Deri. at 1.00pm

February

Tuesday

4th

Mother's Union Meeting

- Quest Speaker, Carol Andrews.

St. Margaret's Church at 7.00pm

Tuesday

11th

Mother's Union Coffee Morning

St. Margaret's Church

at 10.30am

Tuesday

18th

Parish Quiz Night

Gilfach Bowls Club at 7.00pm

Tuesday

25th

Mother's Union Luncheon club

TBA at 1.00pm

3rd

St. Margaret's Church at 7.00pm

10th

Mother's Union Coffee Morning

St. Margaret's Church

at 10.30am

17th

24th

**** All mother's union events have been cancelled until further notice! ****

Tuesday

31st

April

Tuesday

7th

Tuesday

14th

Tuesday

21st

Tuesday

28th
May

Tuesday

5th

Tuesday

12th

Monday

18th

7.00 p.m. Our Deanery Festival will be virtually conducted through Facebook. If you do not have facebook click the following link (MU Deanery Celebration 2020), which will open a service booklet that you may wish to read

(click here to see further information below and link to Parish of ttbl facebook page. )

Tuesday

19th

Tuesday

26th
June

Tuesday

2nd

Tuesday

9th

Tuesday

16th

Tuesday

23rd

Tuesday

30th
July

Tuesday

Tuesday

Tuesday

Tuesday

Tuesday

August

*****Mothers' Union is taking a break during August. No Activites or Meetings during this month.*****

September

Tuesday

Tuesday

Tuesday

Tuesday

October

Tuesday

Tuesday

Tuesday

Tuesday

Tuesday

November

Tuesday

Tuesday

Tuesday

Tuesday

December
*

** There will be no Skittles or Luncheon Club during December

***

Tuesday

Tuesday

Tuesday
-o-o-o-o-o-o-o-o-o-o-o-o-o-o-o-
A message from Kath Llewellyn (11.05.2020)
Lowrie has informed me that as from 7.00 p.m. next Monday 18th May that our Deanery Festival will be virtually conducted through Facebook. This will be on the facebook page of the Parish of Trelewis, Treharris, Llanfabon and Bedlinog (click the link below). I know that this will only be available to anyone with Facebook, which doesn't include me, but maybe if this message is posted on our website that some members might want to log on and follow it. Thanks. This link will open the PDF service booklet. MU Deanery Celebration 2020
Kath
The Parish of Treharris, Trelewis, Bedlinog & Llanfabon facebook page.
-o-o-o-o-o-o-o-o-o-o-o-o-o-
The following two documents are e-mails giving information recieved by Kath from the mother's union.
A Letter to Members
May 2020
Dear Members
At this vastly different time for the world around us, I send my heartfelt greetings to you. You are constantly in my prayers, certain that our dear Lord and Saviour is surrounding you with his love and is ever present with you on your journey.
The Year of Pilgrimage has encountered an obstacle on its way. In January, when we launched our Mothers' Union Book of Pilgrimage with its timetable around the branches, we did not envisage that in the space of a few months, that it would come to a halt. Many of the Tedi Pererin Bears are taking a rest until they can continue their journey, and this applies to our MU Bear, Pererin Mair (Pilgrim Bear Mary).
The pandemic has become part of our own personal pilgrimage as we reflect on how our Lord Jesus Christ is with us on our journey; loving, supporting and guiding us through the highs and lows of the enforced lockdown, the inability to meet family and friends, unable to attend our beloved churches and the lack of Mothers' Union meetings.
We are a pilgrim people and our destiny is heaven. As we travel towards the light of Christ, may we encourage one another through life's rough seas and stone-filled paths.
It is now in the month of May, a highlight of our Diocesan calendar, when we meet as members to celebrate God's abundant grace and love to Mothers' Union members in our Deanery Festivals.
We must look forward and with God's guidance, we can still meet in prayer as members of our Deaneries. Reverend Sandra Birdsall, our MU Chaplain, has provided a Deanery Prayer Chain Service (which is available on our website, emailed or posted to members not on the internet) whereby members in the Deanery can join in the service, on the day and at the time of the proposed Deanery Festival (afternoon or evening). We ask that Area Deans and the clergy who would have been involved in the Deanery Festivals are provided with a copy of this service.

The service is based on the Mothers' Union theme of Building Hope and Confidence and contains readings, reflections and prayers. Each Deanery is asked to pray for their own Deanery and for the next Deanery on the calendar, similar to the wave of prayer and the timetable of Deanery Festivals is provided in the service sheet.
Individual members are asked to make a link for a paper chain and to write a prayer, a verse from the Bible, a line from a favourite hymn or poem on the link. The link can be made from any paper, card, old envelopes etc. The size does not matter. Members will bring these links to their Branch meeting after the lockdown.
Branch leaders will join the links to form a branch chain and bring then to the first Deanery Meetingafter the lockdown and attach them to an Anchor. Deanery Leaders have been provided with atemplate of an anchor, so that chains can be attached. We are hopeful that there will be a Eucharistin Llandaff Cathedral at some time before the end of the year, where members across the Diocesecan come together and worship, with Deanery Leaders bringing the Anchors and chains to be blessed at this service.
This symbolic gesture reflects God's love and promise and encourages us to take hold of the hope that we have. This hope is like a firm and steady anchor for our souls. Be strong and courageous. Do not be afraid; do not be discouraged, for the Lord your God will be with you wherever you go. Joshua 1:9 I am extremely grateful to our Mothers' Union Diocesan Chaplain, Revd. Sandra for providing us with regular devotions. These are widely disseminated across the diocese to members and non-members and the Trustee Board have received many messages, reflecting how much these devotions are highly valued and provide much spiritual support to members during this anxious time. These
devotions will continue on a twice weekly basis for as long as they are required, during this lockdown.
Our Archdeaconry Eucharists planned for June and July have been cancelled but we have hope that the Archdeaconry Eucharist planned for Monday 14 September may still be a possibility, but we will follow the Government's advice and the safety and wellbeing of our members will be paramount in any decisions that we make regarding future events. I look forward with great joy, to the time when we can meet together again, joining in prayer and fellowship. Until then, you continue to be in my prayers, and I wish you well for your very different Deanery Festivals.
God of love and understanding we thank you for the members in our deaneries and for the common concern for marriage and family life, which binds us together. We pray that we will continue to enjoy each other's friendship, to work together in love and to encourage each other with the hope of Jesus Christ. Amen

With my love and prayers,
Sue Rivers
Diocesan President
-o-o-o-o-o-o-o-o-o-o-o-o-o-o-o-o-o-o-
A Prayer Chain to replace our Deanery Festivals
"Building hope and confidence" is at the heart of our call to support individuals and families to transform their lives. So even though we cannot gather at the moment, we can still celebrate our hope and confidence in God, which inspires and equips us to build hope and confidence in others, as we reach out in love and service.
Praise be to the God and Father of our Lord Jesus Christ!
In his great mercy he has given us new birth into a living hope
through the resurrection of Jesus Christ from the dead. 1 Peter 1:3
Living God, we thank you that we can put our hands in yours, and walk where you will lead us, confident that, though all else may fail, you will not. So, in faith with joyful hearts, we dedicate our lives once more to your service. You have given us hope, and hope does not disappoint us. In Jesus name. Amen
Confession
Merciful Lord forgive us when we shun the security of your eternal promises and build our hope and confidence on the shifting sands of this world. Help us to anchor our lives on you that we may place our confidence in your unfailing word and build hope that endures in those you call us to serve. Amen
Absolution
May our loving Lord bless us with forgiveness and grace that we may be renewed in hope and confidence to gladly serve his world. Amen
Gospel Reading: John 14:6-7; 12-16
Jesus said: I am the way and the truth and the life. No one comes to the Father except through me. 7 If you really know me, you will know my Father as well. From now on, you do know him and have seen him.
12 Very truly I tell you, whoever believes in me will do the works I have been doing, and they will do even greater things than these, because I am going to the Father. 13 And I will do whatever you ask in my name, so that the Father may be glorified in the Son. 14 You may ask me for anything in my name, and I will do it.
15 "If you love me, keep my commands. 16 And I will ask the Father, and he will give you another advocate to help you and be with you forever—17 the Spirit of truth.
This is the Gospel of the Lord. Praise to you, O Christ.
Thanksgiving and intercessions
We bring our prayers for the witness and work of Mothers' Union; placing our hope and confidence in God's willingness to hear and in his power to answer. God of sure and steadfast hope we draw near with confidence to ask for your blessing on the witness and work of Mothers' Union worldwide. We bring you our thanks for lives which have been transformed as we have reached out with your love; for those who now face the future with hope and confidence. We pray for the many who still despair that life can ever change and ask for your abundant resources to transform mind-sets and circumstances and create a hopeful future.
Today in our Chain of Prayer travelling across our Diocese we pray for our deanery and all the branches within it. We also pray for the deanery of. (see below), who were due to hold their deanery festival next.
| | | | |
| --- | --- | --- | --- |
| Date | Deanery | Date | Deanery |
| 5th May | Bridgend | 14th May | Penarth and Barry |
| 6th May | Cynon Valley | 18th May | Caerphilly and Merthyr |
| 11th May | Margam | 19th May | Rhondda |
| 11th May | Neath | 20th May | Llandaff |
| 12th May | Vale of Glamorgan | 27th May | Pontypridd |
| 13th May | Cardiff | | |
God of sure and steadfast hope we look forward with confidence; trusting in your loving guidance as we continue to walk in step with you. Amen
Sure and steadfast hope symbolic prayer
God's promises should greatly encourage us to take hold of the hope that is right in front of us. This hope is like a firm and steady anchor for our souls. Hebrews 6:18-19 (CEV)
(Make a paper chain at home where the links represent the hope and confidence that Mothers' Union brings to you, your branch, deanery, diocese and worldwide. When we can all meet again, they can be joined together along with an anchor for each deanery.)
We offer up these symbols of our sure and steadfast hope in God. We affirm our confidence in his promises and commit our witness and work to him. Amen
Final Prayer and Blessing
Loving Lord, we thank you for your love so freely given to us all. We pray for families around the world. Bless the work of the Mothers' Union
as we seek to share your love through the encouragement, strengthening and support of marriage and family life. Empowered by your Spirit, may we be united in prayer and worship, and in love and service reach out as your hands across the world. In Jesus' name. Amen
Whatever today may hold, whatever tomorrow might bring, the future is secure, for Christ is with us, the same yesterday, today and forever.
Live each moment with him in quiet confidence and joyful celebration, for he is ours and we are his for all eternity. Amen ©Nick Fawcett
May the God of hope fill us with joy and peace as we trust in him, that we may overflow with hope by the power of the Holy Spirit. Amen
Both the documents can be downloaded as PDF should you wish to print them out for yourself or a fellow Mother's Union members.
Letter to members

A Prayer Chain to replace our Deanery Festivals
-o-o-o-o-o-o-o-o-o-o-o-o-o-o-o-
Mothers' Union Article (24/04/2020)
Despite the lockdown and not being able to have meetings, coffee mornings, skittles or luncheon clubs we have still managed to stay in touch with each other on the phone. I have spoken to most people and those I have omitted is due to the wrong phone numbers that I have. There are constant e-mails from Mothers' Union deanery and diocesan leaders. Mostly they were over the Easter period which was a strange one for all of us. The latest one I have had has been to ask each branch to try to support Mary Sumner House with a donation due to the fact that they are now not able to obtain their normal funding and are facing a shortfall. They appreciate that because of the lockdown the branches are not meeting and are therefore not generating any money, and also the fact that the contributions and fees were only paid in March so most branches do not have much in their funds, as we are told there shouldn't be. I have spoken to June and we are going to look at our finances and see what we could do but are also aware that the caravan will need to have funds as well, and this has always been our main project to finance. If anyone has any thoughts on this please let me know.
We were very sad that we were unable to attend Christine Ross' funeral as I would have liked to carry our banner in her honour as a previous Branch Leader. It is so sad that we cannot say goodbye or pay tribute to those that have died during this awful time.
Our condolences go to Jenn on the loss of Tom due to the coronavirus. Tom was a lovely gentleman and I had the privilege or being away with them in Oberammergau ten years ago and can sincerely say that Tom was a really lovely man with a good sense of humour and excellent company. I know Jenn will miss him dreadfully but will find comfort in the fact that they found one another and had such a good relationship and she has lots of memories of him, especially on their numerous holidays. Our sympathies are with Jenn and Tom's family in Colchester. I know Fr. Gary has been very supportive of Jenn, as much as he was able to be in the circumstances and she appreciates that. It was Tom's funeral on Friday, 24th April and Fr. Gary went to Jenn's for a small service and lots of us lit a candle for him in our homes. I know several of us who did this just to let Jenn know we were thinking of him at that time.
I would also like to give our condolences to June on the death of her brother-in-law Carl. Once again due to the coronavirus restrictions the funeral will not attended by as many as would like to go, including June. Our sympathies go to Jacqui her sister and Bethan and Ieuan their children and all the family. Once again Carl was a lovely man who will be greatly missed by them all.
I would like to thank Fr. Gary for the services that he has put on the internet. I'm not the best tech person but I was able to follow them easily and although the services were really good let's hope that we will soon be able to get back together to worship with each other and rejoice in our celebrations.
I am enjoying this wonderful weather and have managed to get quite a lot of painting done in the garden. Howard has never been home as much so have had to keep him busy and he has never done as much gardening in his life as he has the past month. It's still a novelty so let's hope it continues to be and the weather stays fine. The weather has made us look as if we have been on holiday, without spending any money, but we aren't going anywhere for anyone to see how well we all look. Can't see that changing much in the near future either. I am hoping that this will not go on for too much longer, as we all miss our families and friends and realise just how much we all need one another to try and keep sane in this crazy situation. As it continues may we keep strong and keep safe and look out for one another. I took the pilgrimage bear over to St. Margaret's and he's sitting in Fr. Gary's chair, waiting for us to start taking him on some pilgrimages. Let's pray that won't be too long now.
Take care everyone and God bless.
Kath
o-o-o-o-o-o-o-o-o-o-o-o-o-o-o-o-o-o-o
Mothers' Union Skittles Evening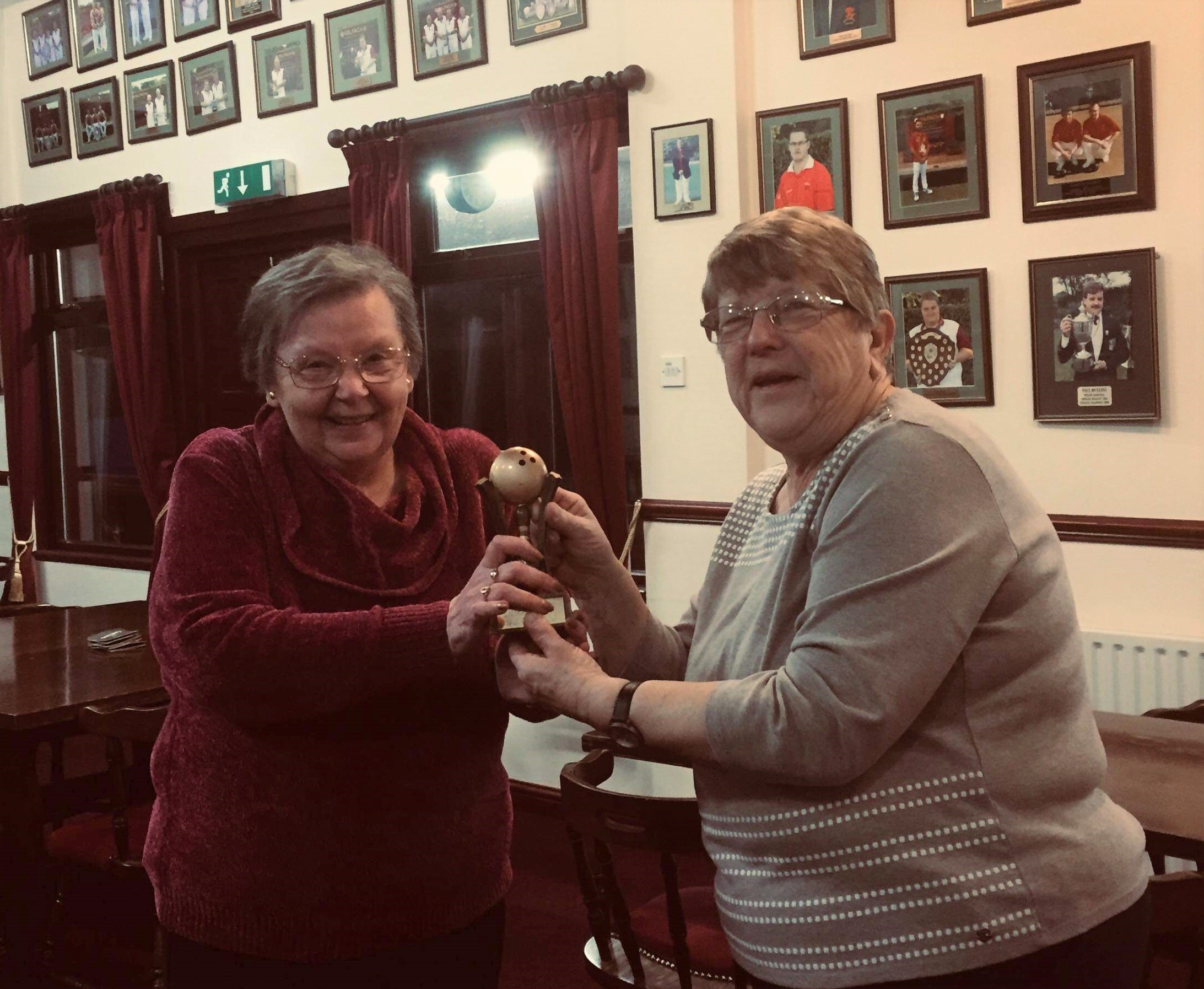 On Tuesday 21st January it was our monthly mothers' union skittles evening, held at the Gilfach Bowls Club. Everyone who attended had a very enjoyable evening added too by the excitement of the skittles tournament. After the end of the evening Megan Roach was our winner. Well done Megan!
The picture above shows Megan receiving the skittle cup from Audrey at Tuesdays MU skittles evening. If you are interested in joining us and enjoying such an event, we meet at the Bowls club in Gilfach, every third Tuesday of the month at 7.30pm.
-o-o-o-o-o-o-o-o-o-o-o-o-o-o-o-o-o-o-o-
We had Carolyn play our favourite hymns for our meeting in October. Once again it is very uplifting to be singing and enjoying each other's company. We all chose hymns that we like and we thank Carolyn for going along with whatever we decided to sing. It was good to catch up with everyone. Often when we have a speaker we don't get chance to talk and organise things. Our next meeting which should be on 5th November has been altered since not many members wish to come out on Bonfire night.
Our coffee morning continues to be well supported and is a great community gathering. The cakes this month were of a great variety as they had been left over from the Flower Festival/display. I can't let this opportunity pass without thanking all those who did such wonderful flower arrangements. The church looked wonderful and the Songs of Praise service was such a joy for everyone. Well done.
Our programme continues with our skittles evenings and luncheon club. Our meeting for December will be our annual Christmas dinner which will be an afternoon event with entertainment and dancing, which is always a great afternoon. Christmas is approaching quickly and I will have cards and diaries for sale from the Mothers' Union magazine.

Love Kath (Oct,2019)
o-o-o-o-o-o-o-o-o-o-o-o-o-o-o-o
Harvest Supper
The Harvest Supper was once again a great evening, full of fun and fellowship. Thanks to June and her team for the hard work involved, the food was good as usual and the apple crumble delicious. After eating our fill we were entertained with some lovely songs from Bargoed Community Choir, we were then encouraged to sing along. The quiz was fun, some questions harder than others, which Jenn and Lynne's team won.
Megan
o-o-o-o-o-o-o-o-o-o-o-o-o-o-o-o
Mothers's Union
Kath opened our monthly meeting with prayers. We then prepared for the Colour Fayre on Saturday by packing and numbering our black and white items for our tombola stall. Thank you everyone for all your donations to this event.
Our stall at the fayre looked very attractive and truly was in keeping with the Black and White theme allocated to us. Kath and I were pleased with our stall set up which looked splendid displaying our items on black and white coverings, also black and white posters displaying the Mothers' union prayer and united in prayer and worship, following in Mary Sumner's Sumners footsteps. The hall was very colourful and a lot of effort had been made in making the hall so splendid in keeping with the theme. Again, it was an opportunity to chat with old and new friends across the Deanery. There was a steady flow of visitors to the Fayre and we were both pleased to sell most of our items raising a total of £80. The overall total for the day was approximately £700, an excellent result .
Our coffee morning although a very wet day was well attended. The quiz prepared by my husband was on 'Sweets and Chocolates' and was won by Megan and friends. Everyone enjoyed the morning chatting with friends and eating delicious cake etc.
In our branch , may I ask you to keep in your thoughts and prayers , our Indoor Members.

Myrtle Stephens
o-o-o-o-o-o-o-o-o-o-o-o-o
Mothers' Union

In our Monthly meeting, we were privileged to welcome Emma Jenkins who is the Shared Lives Manager for South East Wales. This scheme offers a unique community based service for adults who need care and support.
Shared Lives Carers are carefully recruited, assessed trained and supported by the scheme. Carers come from all walks of life and chose to care for a variety of reasons. They are united through their enthusiasm, motivation and commitment. Carers are paid for the placements they provide. The flexibility of Shared Lives means that carers can provide support for lots of different people in a wide range of situations. Individuals supported in Shared Lives may have learning or physical disabilities, they may be older people who are frail or living with dementia or people with mental health problems.
The Shared Lives Health initiative is looking to recruit additional carers. Are you a positive person who could make a difference in someone's life, could you become a Shared Lives Carer? The scheme arranges placements across Blaenau Gwent, Caerphilly, Merthyr Tydfil, Monmouthshire, Newport and Torfaen. Thank you Emma for a very interesting and inspiring talk on the Shared Lives Scheme. If you require further information please contact the team at Caerphilly CBC,Penalta House, Tredomen Park, Ystrad Mynach CF82 7PG.
On Wednesday 8th May 12 of our members attended The Deanery Festival at Holy Trinity church Ystrad Mynach. The service was Sung Evensong and it was lovely to sing the Psalm, Magnificat and the Nunc Dimittis as evensong is no longer celebrated in a lot of churches. In the service, father Steven Kirk commissioned Lowrie Washington Jones as the new Deanery Leader and also the secretary and treasurer. This service was followed by a splendid buffet of delicious cakes , sandwiches etc which we all thoroughly enjoyed. In the buffet it was lovely to forge friendships with old and new friends across the Deanery.
Our monthly coffee mornings continues to thrive and involves the wider community where people come together to chat and forge links with individuals. They also enjoy a cup of tea or coffee and delicious cakes. Each table takes part in the quiz set and there are lots of discussion about the correct answers. If you like to chat and make new friends, come and join our coffee morning on the second Tuesday in the month at St Margaret's church Gilfach at 10.30 am, all are welcome.

In our branch, may I ask you to keep in your thoughts and prayers those who are unwell and also our Indoor Members namely Olive Chard, Christine Ross, Ruby Foster and Marion Amer.

Myrtle Stephens.
-o-o-o-o-o-o-o-o-o-o-o-o-o-
Our monthly meeting of Mothers' Union resumed on Tuesday, 4th September after a break for the Summer. Kath opened our meeting with prayers and we included our indoor members in our prayers. We then had notices from the Deanery. Judy our Deanery Leader is standing down, so a replacement is needed. I have an update on that subject as June and I went to a Deanery meeting and Lowrie Washington Jones is happy to be our Deanery Leader once again. We are all pleased about that. Onto branch news; we were unable to hold our Family Day in August due to poor weather and people being away. Lynette and Malcolm Davies celebrated their Golden Wedding in August and Christine had a special birthday on August 31st. To celebrate the occasion Christine brought in a carrot cake which we had with our cup of tea during the break and very nice it was too. I don't think Chris took much home with her. The M.U. Christmas catalogue is now available so anyone wanting to order cards, or a diary see Kath.
Before our break we had a return visit from Matthew Jones (Bron's grandson) who visited us at this time last year, and we all enjoyed the evening so much we asked him to come back. Once again, he demonstrated his magic with a piece of clay. Apparently Japanese tea cups are the trend, so he showed us several of these. The names of which I cannot say leave alone remember. Kath was the only one brave enough to Av A Go and she attempted a Japanese cup, it was very good too. Then it was time to buy, and several of us bought some of his pots. We are all hoping that one day they will be collectors' items. Thank you, Matthew, for a lovely evening. I think Bron would have been pleased that you had made a return visit.
Gaynor
-o-o-o-o-o-o-o-o-o-o-o-o-o-o-o-o-o-
MURDER MYSTERY NIGHT
I would like to thank all my staff who worked so hard on the night of the murder of my dear FRIEND Franny Craddock at Painton Place on Friday 15th June 2018. It was a tragic night but made bearable by the expert service offered to the guests by the wonderful staff at the manor. I cannot believe that my fiancé Boris killed my FRIEND so cruelly on such a memorable weekend. Although the expert chefs, Paul Babylon and Franny didn't prepare the food it was up to their excellent standard. Paul said he was unable to eat due to the stress of Franny's death, but that didn't seem to be case on Friday night! I apologise to all the guests who paid for a cooking mini-bake weekend that it was disrupted but perhaps we could have another one in the near future. Once again my thanks to everyone who made the weekend bearable.
yours sincerely the Rt.Hon lady Theresa Painton
I'm sure the above paragraph is confusing to those who didn't come to the Murder/mystery event. To all those who missed the murder/mystery night DO NOT MISS THE NEXT ONE. Everyone seemed to have such a good night, laughing and trying to work out the murderer. It was a very different occasion but it was brilliant. Thanks to Fr. Gary for the work he did in getting the game, prize, drinks etc. and thanks to all those who helped to prepare, serve and clear up on the night. Thanks always to June for the excellent organising she does so superbly. I think an Oscars evening could be organised for this acting group. I know the Social committee are always thinking of different events and this was clearly an astounding success. So once again thanks to everyone involved and to the audience for getting so involved. Bring a bigger notebook next time Jeanette. I can't believe that all my friends and my own mother thought that I did it!!!!
With love from Kath
-o-o-o-o-o-o-o-o-o-o-o-o-o-o-o-o-o-
We must be good people as although it was a dull grey morning, the sun came out in the afternoon just in time for our annual visit to Hillcrest Gardens. Saying that we didn't go last year.
Twenty five members and friends enjoyed afternoon tea and a walk around the gardens. The tea was of the usual high standard. Mike and his helpers serving us with delicious sandwiches of ham ,chicken, cheese and smoked salmon followed by fresh fruit salad and ice cream and then scones with strawberry jam and lots of fresh cream. All washed down with as many cups of tea or coffee you could drink.
The gardens were looking particularly lovely as they had been open to the public the previous weekend as part of the N.G.S. Some managed to walk further than others but we all thoroughly enjoyed our visit. Thank you to Mike and Bev for letting us visit you once again.
-o-o-o-o-o-o-o-o-o-o-o-o-o-o-o-o-o-
Cowboy and Cowgirl American Themed Evening -16th May 2018.
Images from the American Evening

Selection of Photograhs by Mr. David Harvey & Mrs. C Corbin.
Our theme night, this year, took place on Wednesday, the 16th May, a Cowboy/Cowgirl evening. The room at Neuadd St.Catwg was brightly decorated with red gingham tablecloths, star spangled flags and our very own Saloon Bar. Many of our guests wore Cowboy/Cowgirl outfits and we were pleased to also welcome Jessie and Woody from Toy Story alias Kath and Howard.
Our menu for the evening was American Beef burgers, Hot Dogs and baked beans. For dessert there were delicious waffles with strawberries, cream and different toppings (my favourite was salted Caramel). I must take this opportunity to congratulate the team running the kitchen and waiting on the tables; the organisation and competence was remarkable, everything went without a hitch (well nearly everything anyway). It was like watching an episode of Master Chef and I expected someone to shout 'Yes Chef' or 'two minutes Chef' at any moment.
Entertainment for the evening was supplied by Barbara and our Monday Morning dance class, as well as others who were brave enough to join in. They gave us a very enjoyable display of American Line Dancing, well done girls and thanks to Father Gary for being in charge of the music.
Many thanks once again go to June for doing all the shopping and for being our Chef, to all who helped in the kitchen and above all thanks to everyone who supported the evening, thus making it another successful event.
-o-o-o-o-o-o-o-o-o-o-o-o-
Mothers Union Deanery Festival 2018.
Mother's Union Deanery Festival Service - St. Catwg's Church, Gelligaer.
Mothers Union Banners

Mrs Judith Hopkins - Deanery Leader

Some photograph's taken at St. Catwg's Hall, Gelligaer after the service.

Flower displays around the church for the Mothers' Union Deanery Festival
It was our turn to host the Deanery Festival this year. It was the first time that I had the privilege of being Branch Leader so I wasn't sure if all that we were organising was correct. Iwasn't particularly concerned about the food after the service as we are quite used to catering for a lot of people and I know we have terrific support from our members. When we knew we were hosting it I asked Fr. Gary if he was prepared to do it and then felt rather guilty that it all seemed to be down to him. We discussed the hymns and the theme and that we would use the screen and then I left it to him – at least he knows what he's doing! Thanks to Carolyn for putting it all together on the screen – it is so much easier for all to follow.
Sometimes when you are hosting something as important as this you worry that we don't follow the right protocol but then realise that all you really want to do is give everyone the opportunity to enjoy themselves and see how we enjoy our fellowship in our branch of the Mothers' Union. The service was superb with Fr. Gary giving such a wonderful homily and everyone thoroughly enjoyed it. They loved the hymns and the renewal of their Mothers' Union promises. Everyone congratulated us on such a lovely service and they robustly sang all the hymns even though some didn't know "Walk With Me O My Lord". Judy, our Deanery Leader said she would like the music to that hymn. The words in each of the hymns were applicable to the Mothers' Union. They even joined in our clapping at the right times! I was told by many there that Fr. Gary has now set the bar very high for the next parish. I don't think they can top it! Our thanks also to Mike Phillips for playing the organ so professionally for us.
Once again everyone pulled together with the refreshments after and the serving of the teas and the clearing up. The food was wonderful and I would like to thank everyone for their contributions. Another high standard for the rest to try and equal (can't beat it). Many also remarked on the wonderful flower displays – another triumph for our marvellous flower arrangers. They really are professionals. The comments were magnificent with Sue Rivers taking photos to show everyone who didn't come. Once again thank you all for the very hard work you put in.
No Mothers' Union officials attended as they were at another Festival in the Vale and I am sure that they will be very sorry when they hear about our wonderful service. Sue Rivers said that she had been to one the previous week that only had about 20 people there, so it was lovely to see our church full. I can't thank everyone involved enough as 'thanks' seems very inadequate for how grateful and happy I am that we have such a lovely branch. I was thrilled to hear from Pat that she has missed it so much that the service touched her so much that she is rejoining. Welcome back Pat. So I will finish by once again thanking everyone for their hard work, especially Fr. Gary, and I hope you all enjoyed it as much as I did.

With love and thanks
Kath
-o-o-o-o-o-o-o-o-o-o-o-o-o-o-o-o-o-o-o-
Mothers Union Meeting - Guest Speaker Alison Shone, musical director of Bargoed Community Choir.
On Tuesday 3rd April, we had the pleasure of Alison Shone talking about her life and career so far. She started by giving us all a brief summary of her career to date. Alison was raised in Nottingham although she had been born in St. Asaph in Clwyd. She always loved singing but when her mother arranged piano lessons for her the teacher told her after several lessons that she would never amount to anything in the music world. However she joined a church choir and had choral training and her choir master heard something special in her voice and she was a finalist in the BBC choir girl of the year competition and was the only chorister to be awarded the distinguished Provost medal from the Rector Choir of Southwell Minster. This led to her gaining a place at Chetham School of Music in Manchester where she lasted all of four days finding the emphasis too rigid on piano playing and not so much singing. However she still belonged to the National Youth Choir. At 18 she won a full scholarship at the Royal Academy of Music in London, mainly due to her outstanding voice. She had mastered the piano by this time but whilst there she completed choral and conducting courses. She passed her degree with honours and was offered a scholarship for a Masters which she could not afford to accept.
Alison moved from London to Cardiff to study at the Royal Welsh College of Music and Drama where she won the prestigious Sir Geraint Evans prize twice. Alison was married and she and her husband moved to Barry to live. She has sung with many famous performers such as Katherine Jenkins, Kiri Te Kanawa, Bryn Terfel and Rod Stewart. She has travelled all over the world singing. She has recorded operas, operettas and church music and has sung many times on the television and radio. She has performed at the Royal Albert Hall, St. David's Hall in Cardiff and in the Eisteddfod's famous pink tent.
Since having a family Alison realises that travelling all over the world is not conducive to family life so she has reinvented herself by teaching and conducting music in the valleys, such as with the Bargoed Community Choir. She acts as an accompanist for exams (so much for her original piano teacher) and still does concerts in and around South Wales. She has taken over as choir leader for Strike a Chord, which is a singing group for stroke survivors, their family, friends and carers. This has been a very successful group and has improved the lives of many stroke victims. Alison says that she has learned so much from this group and loves her community choirs.
It was a lovely evening with Alison singing for us. It's so lovely to think that she aspired to everything she was told she would never achieve, and more than anything is happy with her life through her different roles in music. She cannot imagine a life without singing in it. We all know that singing lifts the soul and makes us all feel so much better. We thank Alison for giving her time to us and she has said she would love to come again and we would love to have her and look forward to hearing her again. If anyone was moved enough to join her choir they meet in Calfaria every Thursday morning at 10.15a.m.

With love Kath
-o-o-o-o-o-o-o-o-o-o-o-o-o-o-o-o-o-o-o-o-