Branch Leader - Kath Llewellyn. Tel: 01443 829658
Branch Secretary –
Branch Treasurer - June Phillips. Tel: 01443 835977
*** Last updated on: 9 November, 2023 ***
| | | |
| --- | --- | --- |
| St. Catwg's MU | | St. Margaret's MU |
2023

The date, time and venue of an events may be subject to change!

Day/Date

Event

Location

January

Tuesday

3rd

Tuesday

10th

Tuesday

17th

Tuesday

24th

Tuesday

31st

Wave of Prayer
11.00 a.m.

February

Tuesday

7th

Mothers' Union Meeting. Quest speaker talking about Barnardos

St. Margaret's Church, Gilfach at 6.00pm

Tuesday

14th
Coffee Morning.
St. Margaret's Church, Gilfach at 10.30am

Tuesday

21th

Tuesday

28th
Quiz Afternoon
St. Margaret's Church, Gilfach at 2.00 p.m
7th

Mothers' Union Meeting

St. Margaret's Church, Gilfach at 6.00pm

14th
Coffee Morning.
St. Margaret's Church, Gilfach at 10.30am
21th
28th
Quiz Afternoon
St. Margaret's Church, Gilfach at 2.00 p.m

Tuesday

April

Tuesday

4th

Mother's Union Meeting

St. Margaret's Church, Gilfach at 6.00pm

Tuesday

11th
Coffee Morning.
St. Margaret's Church, Gilfach at 10.30am

Tuesday

18th

Tuesday

25th
Quiz Afternoon
St. Margaret's Church, Gilfach at 2.00 p.m

May

Tuesday

2nd

Mothers' Union Meeting

St. Margaret's Church, Gilfach at 6.00pm

Tuesday

9th
Coffee Morning 10.30 a.m.
St. Margaret's Church, Gilfach at 10.30am

Tuesday

16th

Monday

Quiz Afternoon
St. Margaret's Church, Gilfach at 2.00 p.m

Tuesday

30th

June

Tuesday

6th

Mother's Union Meeting

St. Margaret's Church, Gilfach at 6.00pm

Tuesday

13th
Coffee Morning.
St. Margaret's Church, Gilfach at 10.30am

Tuesday

20th

Tuesday

27th
Quiz Afternoon
St. Margaret's Church, Gilfach at 2.00 p.m

July

Tuesday

4th

Mother's Union Meeting

St. Margaret's Church, Gilfach at 6.00pm

Tuesday

11th
Coffee Morning.
St. Margaret's Church, Gilfach at 10.30am

Tuesday

18th

Tuesday

25th
Quiz Afternoon
St. Margaret's Church, Gilfach at 2.00 pm

August

Tuesday

1st

Mother's Union Meeting

St. Margaret's Church, Gilfach at 6.00pm

Tuesday

8th
Coffee Morning.
St. Margaret's Church, Gilfach at 10.30am

Tuesday

15th

Tuesday

22nd
Quiz Afternoon
St. Margaret's Church, Gilfach at 2.00 pm

Tuesday

29th

September

Tuesday

5th

Mother's Union Meeting

St. Margaret's Church, Gilfach at 6.00pm

Tuesday

12th
Coffee Morning.
St. Margaret's Church, Gilfach at 10.30am

Tuesday

19th

Tuesday

26th
Quiz Afternoon
St. Margaret's Church, Gilfach at 2.00 p.m

October

Tuesday

3rd

Mother's Union Meeting

St. Margaret's Church, Gilfach at 6.00pm

Tuesday

10th
Coffee Morning.
St. Margaret's Church, Gilfach at 10.30am

Tuesday

17th

Tuesday

24th
Quiz Afternoon
St. Margaret's Church, Gilfach at 2.00 p.m

Tuesday

31st

November

Tuesday

7th

Mother's Union Meeting

St. Margaret's Church, Gilfach at 6.00pm

Tuesday

14th
Coffee Morning.
St. Margaret's Church, Gilfach at 10.30am

Tuesday

21st

Tuesday

28th
Quiz Afternoon
St. Margaret's Church, Gilfach at 2.00 p.m

December

Tuesday

5th

Mother's Union Meeting

St. Margaret's Church, Gilfach at 6.00pm

Thursday

7th
The Advent Praise
Dewi Sant at 2.00 p.m.

Monday

11th

Afternoon Christmas lunch and cabarett.
Bryn Meadows Golf Club, with a Neil Diamond tribute. Cost is £29.95

Tuesday

12th
Coffee Morning.
St. Margaret's Church, Gilfach at 10.30am

Tuesday

19th
Christmas afternoon cabaret for the Dance class with a Motown event .
Maes Manor

Tuesday

26th
-o-o-o-o-o-o-o-o-o-o-o-o-o-o-o-
We welcome our new members.
At our meeting on 6th June we welcomed four new members to our branch. We welcomed Jane Carpenter, Rhian Williams, Carol Andrews and Dorothea Bradford. Fr. Gary kindly enrolled them at the start of our meeting. We are so grateful for the support he always gives our branch and he is pleased to see it growing. They were all presented with their membership cards, books and badges. We all re-affirmed our commitment to Mothers' Union.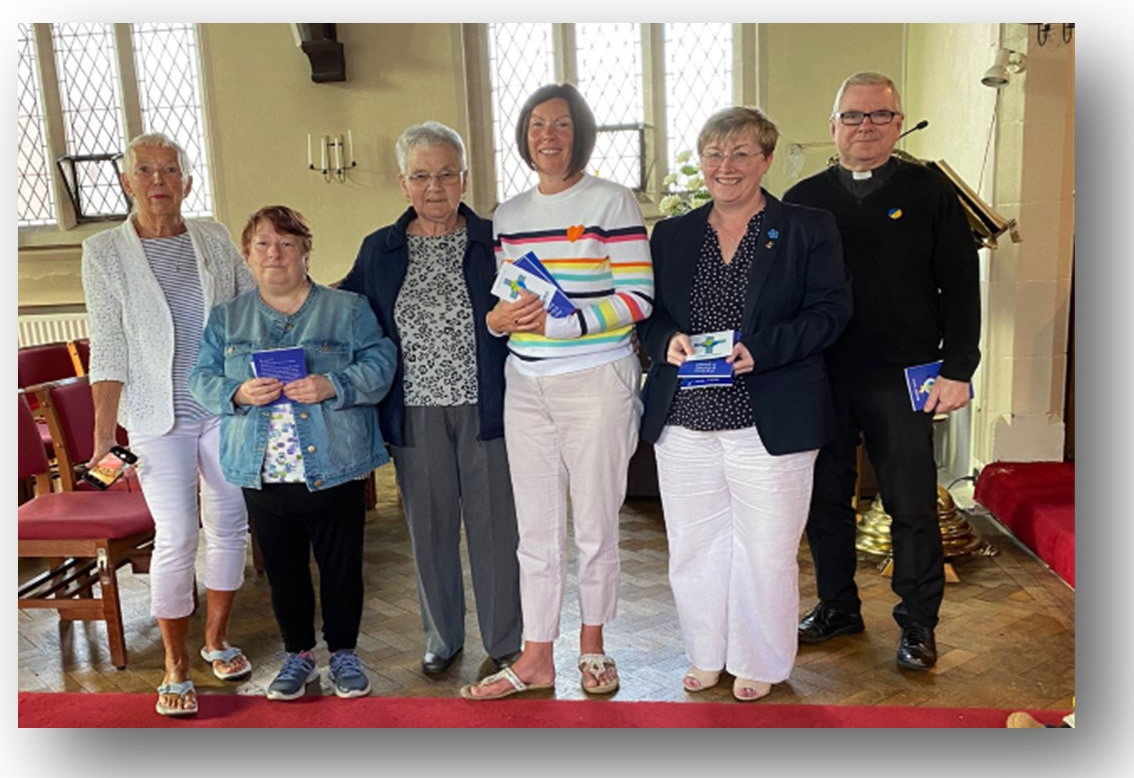 Pictured left to right:
Kath Llewellyn (Branch Leader), Jane Carpenter, Dorothea Bradford, Rhian Williams, Carol Andrews
and Fr Gary Powell.
-o-o-o-o-o-o-o-o-o-o-o-o-o-o-o-
A message from Kath Llewellyn
Welcome everyone to 2022 which hopefully will be a better year for us to meet up more often. Since my last report we enjoyed our second Christmas lunch and dancing at the Maes Manor, and personally speaking it was great. It was good to be with the dance class but also with members who were unable to attend the one the week before. Christmas again was unusual without our normal celebrations but nevertheless we managed some which were really good. Our coffee morning with mince pies was again lovely and my thanks go to everyone who make cakes for these occasions. Barbara made the mince pies, even though she isn't a member, which is what I believe our branch is about – bringing in the community – if only to make the cakes!!
We had our first meeting of the year on the 4th January, and this was well attended considering the cold and dark nights. Our report was given and the financial report by June given to everyone. We think we have done very well considering the circumstances of the last year and had sufficient funds to contribute to the heating and lighting of the church plus our normal contributions to the caravan etc. We are grateful to Fr. Gary for attending our meeting, as he always does, and for the kind words he said about us as a branch. We were lucky to have two members transfer, Glynis and Habiba and are so glad they support us at all our events. Louise also wishes to join our branch and hopefully this will happen on Tuesday 1st February, when we also have Lowrie coming to speak to us. She will then see how fortunate we are to have such good members.
At the meeting it was discussed whether to hold our monthly meetings earlier in the day due to the fact that a lot of people don't like coming out on the dark and cold nights. When I arranged with Lowrie to come we decided that maybe 6.00 p.m. would be best as at least then hopefully Fr. Gary will be available to enrol Louise. We may then go to afternoon meetings the following month. It will be good to have a young member in our branch and I know we will all make her welcome. Darren and Louise with their family are a great asset to our church. We will continue with our coffee mornings on the second Tuesday of the month at 10.30 a.m. and then on the fourth Tuesday we will have our quiz afternoon at 2.00 p.m. If anyone can come up with any ideas for the third Tuesday of the month please let me know.
We have a few ideas for the coming year, with a few speakers and also a Dutch auction, possibly as a separate event or included in one of our meetings/coffee mornings. We will discuss this at our meeting. All suggestions gratefully received. I would like to thank June for all that she does with the collecting of fees and money and keeping the books and supporting me in anything I need. Also as a branch we are very lucky to have Fr. Gary in our church as he always supports everything we do and is grateful for the fellowship we offer to the community. Speaking to members of other churches they also say how lucky we are compared to their branch. Once again thank you all for supporting our branch and I look forward to seeing more of you this year than we have been able to do in the past two years. By the time you get this we will have had our Wave of Prayer so will report on that next month. Take care and God bless.
Kath
-o-o-o-o-o-o-o-o-o-o-o-o-o-
A message from Kath Llewellyn (11.05.2020)
Lowrie has informed me that as from 7.00 p.m. next Monday 18th May that our Deanery Festival will be virtually conducted through Facebook. This will be on the facebook page of the Parish of Trelewis, Treharris, Llanfabon and Bedlinog (click the link below). I know that this will only be available to anyone with Facebook, which doesn't include me, but maybe if this message is posted on our website that some members might want to log on and follow it. Thanks. This link will open the PDF service booklet. MU Deanery Celebration 2020
Kath
The Parish of Treharris, Trelewis, Bedlinog & Llanfabon facebook page.